Moheshkhali Island is One among the top tourist destination for any visitor in Cox's Bazar
Do you like to go and visit Top Attractions in Cox's Bazar? Cox's Bazar is a town on the southeast coast of Bangladesh. It's known for its very long, sandy beachfront, stretching from Sea Beach in the north to Kolatoli Beach in the south.
Blogs related to Moheshkhali Island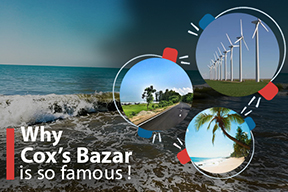 Why Cox's Bazar is the best inbound tourist Attraction in Bangladesh?
Cox's Bazar is not just famous for its long natural sandy sea beach, it is also famous for the amazing hospitality, fresh seafood, marine drive, kutubdia, Moheshkhali Island and amazing St. Martin's Island