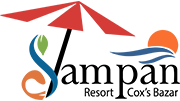 Red Snapper in Sampan Cafe - Cox's Bazar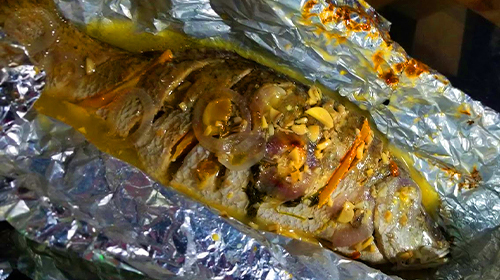 Red Snapper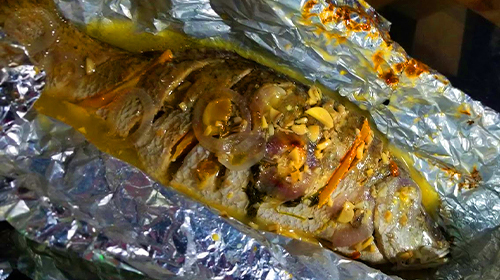 Red Snapper
Red Snapper found in the Indian Ocean as well as in the Bay of Bengal. This is a delicious fish. You can enjoy a bite of Red snapper in Sampan Restaurant.
What does Red Snapper taste like?
Red Snapper is a very tasty fish. Red snapper is moist and delicate, with a mild, slightly sweet taste that goes well with all kinds of additional flavors. In Sampan restaurant, you will find different types of Red Snapper dishes.
Nutrition Value (Is it healthy?)
Red Snapper is a healthy fish with a delicious taste. Red Snapper is full of calories and protein. Red Snapper contains vitamins like Vitamin B6, B12 and also phosphorus, potassium, selenium.
Is Red Snapper safe to eat?
Yes, you can eat Red Snapper without any hesitation. Red Snapper is totally safe to eat.
Dishes to choose
Sampan Cafe and restaurant offer you many types of Red Snapper as grilled, pan-fried, baked or deep-fried, and curry. Red Snapper fillet tastes very delicious when pan-fried or steamed.
Grilled Red Snapper is very tasty. You can enjoy your dinner with grilled Red Snapper.
Pan-fried Red Snapper tastes different than grilled snapper. Pan-fried red snapper is more crunchy. Pan-fried Red Snapper can be eaten with regular rice or hot chili sauce.
Red Snapper curry is available in Sampan restaurant. Red Snapper curry is made with tomato, onion, spice, milk, garlic, and lime for serving.
A place to Find?
Red Snapper available in Sampan Restaurant & Café. We provide our guests with authentic Red Snapper from the local fish market. For orders please go to our restaurant or call our room service.
Explore
Red Snapper Food Gallery | Sampan Cafe