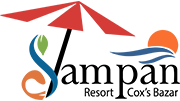 Best Ecotourism Experiences in Cox's Bazar, Bangladesh
The resort is situated on a three acres of waterfont property overseeing the Bay of Bengal. We are located on Marine Drive, and 7 KM before Inani. It far away from the city crowd so that you can relax and enjoy your holiday
The heart of Sampan Resort is our "Sea Gem" outdoor relaxation facility, which is the focal point of the resort and a place where you can dine, read, drink, relax and meet new friends. You will find yourself drawn here over and over again even if it is just to come and grab a fresh drink for the beach.
Let's protect our beach, encourage ecotourism, invest the future of Cox's Bazar
Whether you are enjoying the sunrise with a cup of coffee at our cafe or watching the sunset at our Sea Breeze bar with a tropical drink, Sampan Resort offers the highest level of service.
Some of the best authentic Desi and Western cuisine can be enjoyed in our restaurant and the calories burned away at our canal front yoga classes. You can then wrap the day off with a therapeutic massage in the privacy of your canal view cottages to relax your body, soothe your spirit and put your mind at ease.
Although it is a remote location, we have all the facilities to ensure that you have a perfectly relaxed and unique holiday experience. We look forward to welcome you to Sampan Resort.
Other Facilities | Sampan Resort